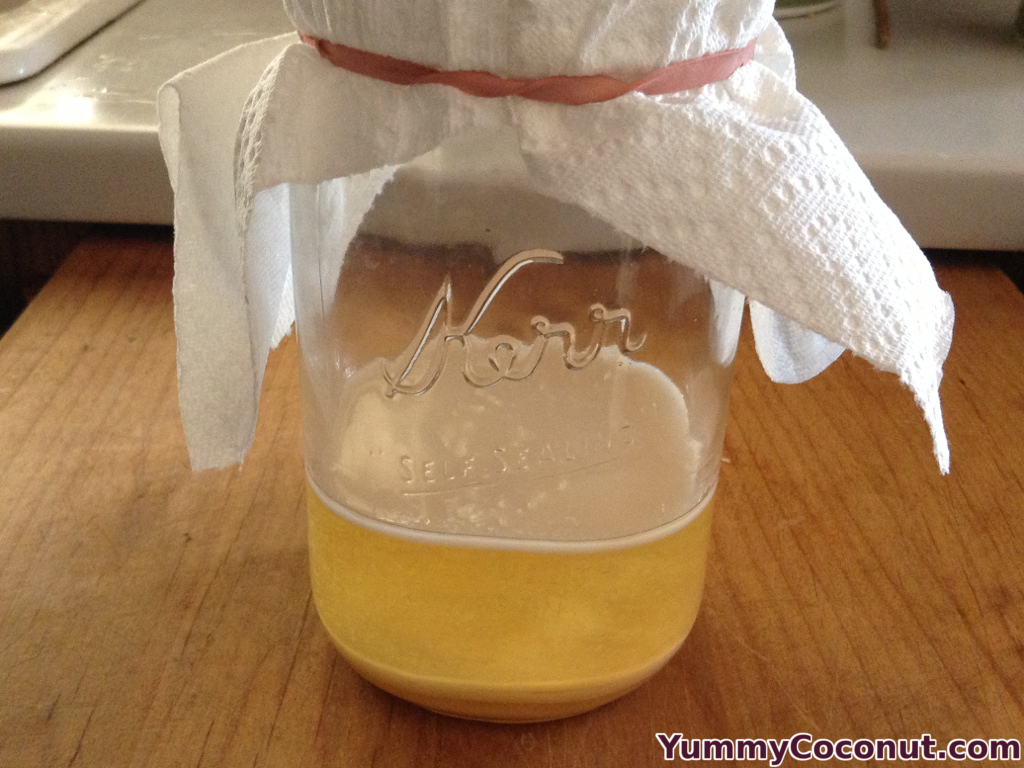 Coconut vinegar is fairly easy to make, it just takes a good amount of patience and understanding of the process.
In order to make vinegar, you must first make alcohol. After the alcohol has been created, the next step is to use a vinegar mother or SCOBY(Symbiotic culture of bacteria and yeast) to convert your alcohol into vinegar. You can help yourself greatly if you get a known, working mother to use with your vinegar. If you do not have access to a mother, that is OK. A mother can form from the wild yeast and bacteria in the air.
To create your own coconut vinegar from coconut water, please follow the simple steps listed below. If you are having trouble with creating your coconut vinegar, take a look at the tips section located below the recipe.
Ingredients
1 quart coconut water
¼ cup sugar
1 tablespoon vinegar mother
Instructions
In a medium sized saucepan, heat the coconut water until it begins to steam. Remove the pan from the heat and stir in the sugar. (Heating is optional, it helps the sugar dissolve in the coconut water but is not necessary.)
Continue mixing until the sugar has dissolved.
Transfer the coconut water and sugar mixture into a glass container. Cover lightly and place the mixture out of sunlight.
Let this sit until the liquid has turned to alcohol. This will take about one week.
After the coconut water has turned to alcohol, add 1 tablespoon of vinegar mother, and place the container into an area where it can sit out of sunlight and undisturbed for 1-3 months until it has turned into coconut vinegar.
http://www.yummycoconut.com/how-to-make-coconut-vinegar/
Copyright YummyCoconut.com, All Rights Reserved
Tips for How to Make Coconut Vinegar
If your coconut water, or mother/SCOBY smells moldy or funky, discard the mixture and start again. If you notice visible mold, discard the mixture.Putting vinegar into the mixture can also help if you continue having problems with mold.
If your coconut water is not turning into coconut alcohol or coconut vinegar, check to make sure the coconut water has ample access to air. Covering or capping during the fermentation process will make it so that the coconut water cannot ferment. The ideal environment for making your coconut vinegar is warm, drafty, dark and somewhere is can sit undisturbed.
To test the acidity of your vinegar, pour out a small amount into a separate container and taste.
If your vinegar mother/SCOBY falls to the bottom of the jar, don't panic, it will reform again at the top.
You can find vinegar mother at wine stores or health food stores. You want to use raw unheated vinegar so that your vinegar can use the SCOBY/mother in that vinegar to create your vinegar. (A good, readily found, raw, organic vinegar is Braggs apple cider vinegar.) This will also result in a new mother being grown on top of your vinegar that you can continue to use as long as it is healthy.
If you want to save your vinegar mother after the process is complete, place her in a lightly covered jar with some vinegar in it.
If you are going to use fresh coconut water, it will take about four mature coconuts to equal one quart of coconut water.